On Minister's "Rabri Devi Made Chief Minister" Remark, Lalu Yadav Says…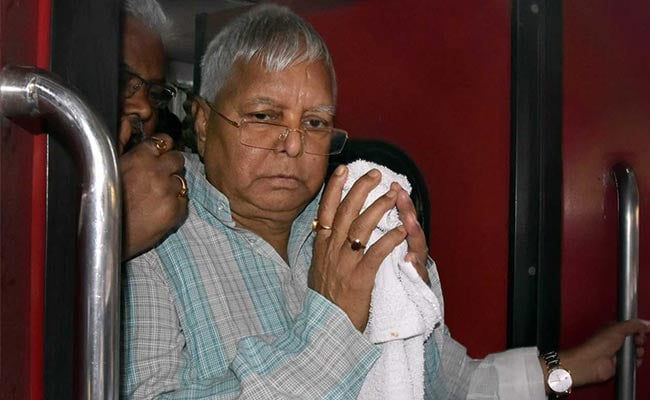 Patna:
Former Chief Minister and RJD supremo Lalu Prasad Yadav who is known for his political humour, left a gathering in splits with his quip in Patna on Tuesday when he took a jibe at Union Minister Nityanand Rai.
Lalu Yadav, while speaking at the Govardhan Puja ceremony organized in ISKCON temple on Tuesday, hit out at Nityanand Rai over his allegations that the RJD supremo made his wife Rabri Devi the Chief Minister of Bihar, ignoring several capable leaders in his party and asked whether Mr Rai's wife would have held the position if not Rabri Devi.
The RJD Supremo also claimed that Rai used to approach him to join his party before going to the BJP.
"The Union Minister of State in Hajipur used to approach us to join our party. BJP had talked about making him the Chief Minister of Yadavs….He says that Lalu Yadav made Rabri Devi the Chief Minister. If Rabri Devi had not been made the Chief Minister, would I have made your wife the CM? (Agar Rabri Devi ko CM nahi banate to kya tumhari bibi ko banate). If Rabri Devi had not been there, RJD and our government would not have existed today. Nitish-Tejashwi government would not have been formed in Bihar if she had not held the CM position," Lalu Yadav said.
Earlier in the day in Patna, Nityanand Rai took a jibe at Lalu Prasad Yadav and said that the former CM side-lined several leaders including Jangdanand Singh and Rabri Devi became the CM of Bihar.
"When Lalu Yadav went to jail, PV Narasimha was the PM. Even when CBI filed the charge sheet, Narasimha's government was there. When you were sentenced in 2013, there was Manmohan Singh i.e. Congress government. When you went to jail, why didn't you make other Yaduvanshis leaders the CM? You made Rabri Devi the CM," Rai said.
"There were many capable leaders in RJD, including Jangdanand Singh, but he was not made the CM. He said that he always kept the Yadavs in the dark. It is because of Lalu Yadav that the Yadavas have the least number of jobs today Lalu Yadav only cares about his family and not about anyone else," Rai said.
Notably, in July 1997, Lalu Yadav broke ranks with his then colleagues and top Janta Dal leaders such as Sharad Yadav and Ram Vilas Paswan to form his own party, the RJD, and installed his wife Rabri Devi as the new CM, just days before he was arrested in the multi-crore fodder scam case.
Meanwhile, on Tuesday, Mr Yadav went on to attack the BJP, accusing it of 'breaking' the Yadav community for its political gains.
"Wherever there is a BJP Government, Yaduvanshis are being broken. We will not let this happen. Like Lord Krishna protected the weak, our Government, and our organisation provided 75 per cent reservation – this was never thought of earlier. Besides reservation, lakhs of people were made teachers. Lakhs of more of such recruitments are going to take place, advertisements have been placed…People have been empowered. Before our government, were you allowed to cast a vote?…Forceful booth capturing used to take place…" Lalu Yadav said.
(Except for the headline, this story has not been edited by NDTV staff and is published from a syndicated feed.)