Approximate Read Time :
39 Seconds
The top court said it may stay the implementation of these laws as talks between the government and farmers are "breaking down".
The court observed that the Centre wants to discuss these legislations point by point, while the farmers want them to be repealed.
The Attorney General said that laws cannot be stayed in such manner, to which the SC said, "We are at this position. We are sorry to say that you have not been able to solve this problem. You as the Union of India has failed to solve the problem and the agitation."
The court asked Venugopal to give a list of earlier judgements dealing with the issue of stay on implementation of law.
The eighth round of talks between the Centre and the farmer unions on January 7 had ended in a stalemate.
Centre ruled out repealing the contentious laws, while the farmers' leaders said they are ready to fight till death and their 'ghar waapsi' will happen only after 'law waapsi'.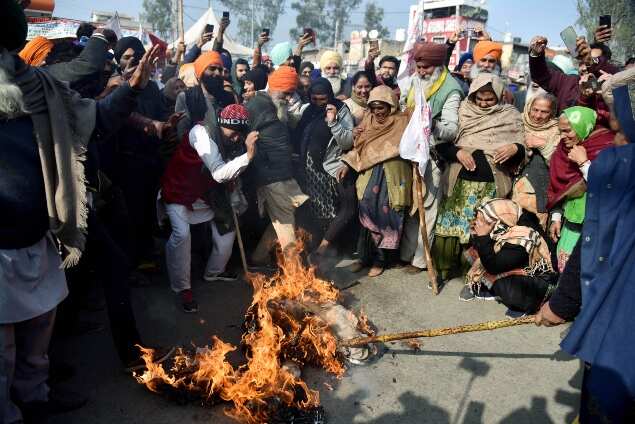 Farmers burn an effigy at the protest site, Delhi. (Credits: ANI)
The story is derived from a syndicated feed and Team TOV has not made any amendments to it. Image Courtesy : TOI